Dr. Urban Reunites 2x Olympian "Jumping" Joe Greene with an Olympic Medal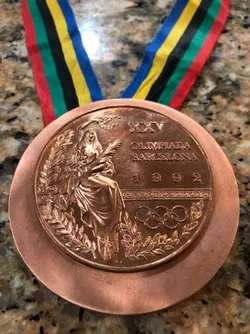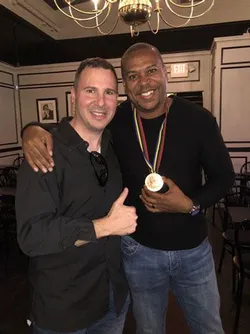 In a random act of kindness, Dr. Martin Urban surprised Joe Greene with one of his Olympic Bronze medals that he won in the 1992 Barcelona Games. The surprise reunification was performed with his friend WWE Hall of Famer "Hacksaw" Jim Duggan before one of his events. "I had planned this surprise with Jim before one of his appearances in Rhode Island. Joe was visiting from Ohio and I was very happy to reunite Joe with a 1992 Olympic Bronze Medal that he would have won while competing in the long jump in those games. Due to some unfortunate circumstances, Joe had lost this medal for some time. Joe was one of the best in his era and to earn an Olympic Medal twice in both 1992 and 1996 is a great accomplishment. To be able to have "Hacksaw" Jim Duggan help me with this surprise was another great moment as Jim is a steadfast supporter of our great country and flag and Joe represented this twice in these Olympic Games. As an Olympic Medal Collector, I also owe a debt of thanks to Jonathan Becker who wrote the book on collecting Olympic Medals for helping me secure this medal. This is a moment that I will never forget and I am very happy that Joe has this medal to represent what he accomplished. Joe has not only become a friend but a patient as well and I am looking forward to seeing him in 2019."
---
ALL IN is still the talk of the pro wrestling world and with good reason. Cody Rhodes and The Young Bucks managed to take what was simply an idea and turn it into a fully formed event.
Not only did ALL IN sell out over 11,000 seats, the night was also full of great performances by some of the industry's top stars. One of those stars is Jay Lethal, who successfully defended his Ring of Honor World Championship against Flip Gordon. But Lethal did not come alone.
Jay was accompanied by Lanny Poffo, the brother of the "Macho Man" Randy Savage. Poffo was on hand for Lethal, who paid tribute to the late Macho Man with his "Black Machismo" gimmick. But how did Lethal come to wear Randy's famous ring jacket to the ring at ALL IN?
---
Jay Lethal defended his ROH Title against whoever won the Over Budget Battle Royal during the All In: Zero Hour preshow. It turned out to be Flip Gordon in the match and Lethal was ready.
Before the ROH Title match started, Lethal was shown backstage where a hand reached out and slapped him in the back. This transformed him back into his Black Machismo gimmick as an ode to Macho Man Randy Savage.
Bryan Alvarez noted on Wrestling Observer Radio that Lethal and Lanny Poffo, Savage's brother were signing autographs together during Starrcast, and Dave Meltzer said the jacket Lethal used was legit. The story of how he got that jacket was pretty awesome too, Lanny went to Lethal and said he had the jacket and that's all it took to bring the gimmick back. This was a pretty awesome thing for the collector to do, but it was also incredibly smart because it probably raised the price of his collectible a ridiculous amount after being tied into All In like this as well as being worn by Randy Savage 2 decades ago.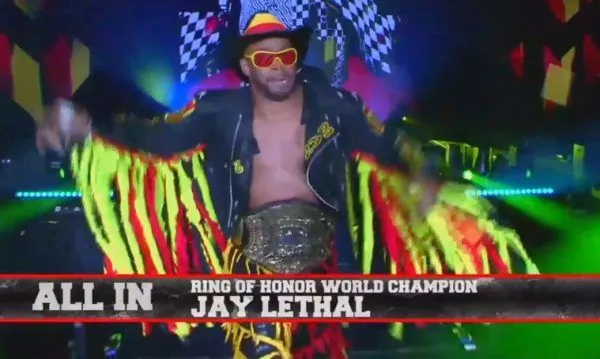 ---
Dr. Martin Urban spends a portion of his time during the year doing personal development. During this time he is working with several of his colleagues to stay on top of the latest developments in the dental field especially dental implants. He is a leader in the field of placing dental implants and the use of technology to provide his patients the best care possible. Most recently he traveled to Kiev Ukraine to attend the International Academy of Dental Implantology. In picture # 1 Dr. Urban is to the far left and picture #2 Dr. Urban is to the far right.
---
Dr. Urban Loans Professional Wrestler Jay Lethal His Legendary "Macho Man" Randy Savage Jacket.
Beyond his busy work schedule dedicated to treating patients, Dr. Urban has a unique hobby. He collects vintage wrestling items worn in the 1980's and 1990's by wrestling legends. Part of his collection features items worn by the late legend and Hall of Famer "Macho Man" Randy Savage. While wrapping up work one day, he was contacted by Lanny Poffo. Lanny is the real life brother and former wrestler known as "The Genius." He is known for beating Hulk Hogan in a legendary match in 1989. He is also a close friend of Dr. Urban and will come and visit Massachusetts for dental care.
"After wrapping up a busy day, I received a phone call from Florida and on the phone is Lanny and Jay Lethal. Jay is a current wrestler in the Ring of Honor Promotion. His wrestling character involves the impersonation of "Macho Man" Randy Savage. He asked if he could wear the jacket in his pay per view wrestling match in Chicago called "All In." I was more than happy to loan him the legendary jacket which is a highlight in the collection. It is great to see a piece of wrestling history from the 1980's come back and be used in current times. I talked with Jay and he mentioned that his career was greatly influenced by Randy. I was honored to help Jay with his match by loaning him the legendary jacket. It was truly an honor for both of us. I am also happy to call these men my friends."
---
Dr. Martin Urban to Co-Sponsor the Lowell 2018 Opioid Awareness Event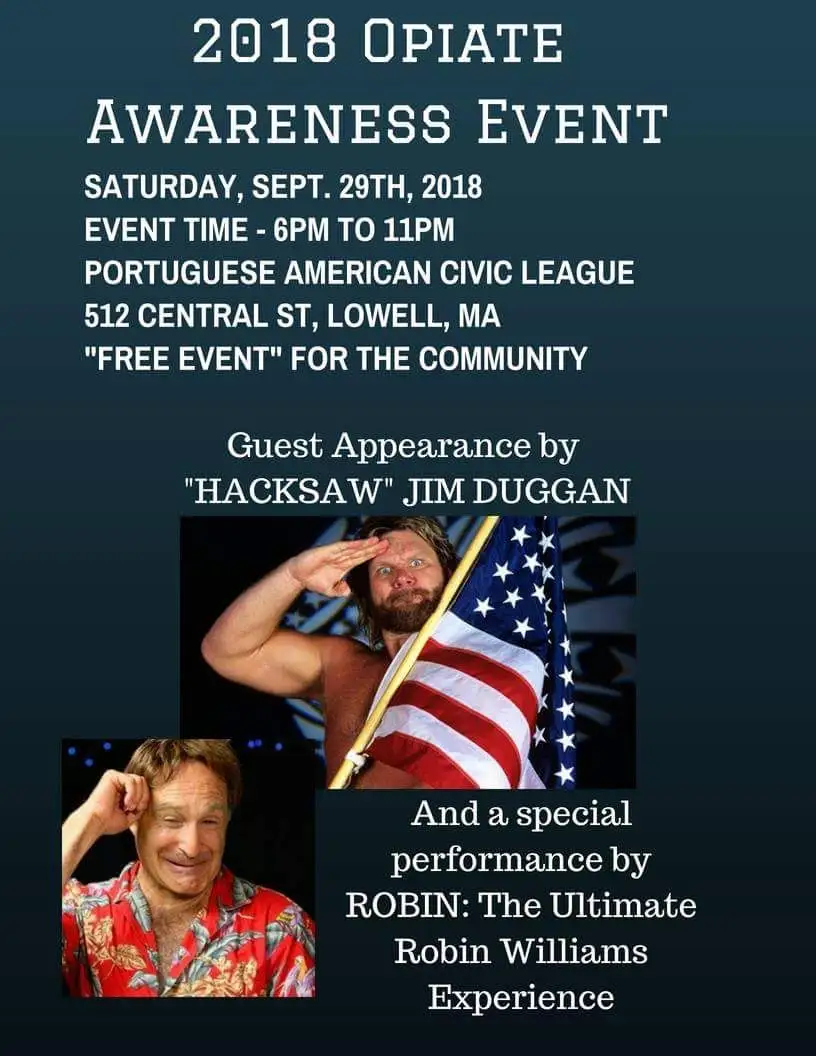 For the second time in the past 2 years, Dr. Martin Urban will sponsor a community event related to the nationwide opioid crisis. The event will take place on September 29th in Lowell, Massachusetts and is being held at the Portuguese American Civic League located at 512 Central Street in Lowell, Massachusetts. After the success of a Watertown, Massachusetts opioid event held in 2016 in which Dr. Urban appeared with professional wrestling legends Jimmy Hart, Ricky "The Dragon Steamboat, Lanny "The Genius" Poffo and Fred "Tugboat" Ottman, Dr. Urban elected to help sponsor his second event on this crisis.
"I lost a former coworker from my Lowell Dental Office last year to this crisis. When my friend, Bob McCarthy asked me to help with this event, I was more than willing and able to lend my resources to do so.
I then reached out to a close friend, WWE Hall of Famer and wrestling Legend, Hacksaw Jim Duggan and asked him to attend the event. He was able to do so and I know many people will be positively inspired by him.
He has also seen persons affected by opioids in his line of work and knows first hand it's effects. The goal of this event will be to provide community support for friends and families affected by this crisis. I am honored to be a part of it."
The free event is expected to a draw a big crowd and Dr. Urban and Hacksaw Jim Duggan plan on speaking along with several other guests.
---
Olympian John Moffet signs a 1984 Olympic Picture for Dr. Urban after 30 years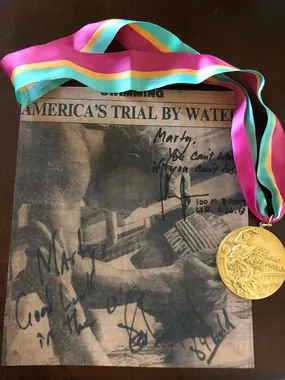 In 1988 at the age of 14, as an age group swimmer, Dr. Urban met world record holder and 1984 Olympic gold medalist Steve Lundquist in the 100 meter breastroke at a swimming event. He was able to bring a newspaper picture from the 1984 Olympics showing Steve Lundquist consoling the former world record holder John Moffet who had finished fifth after straining his groin in the qualifying heats. Steve had won the gold medal and set the world record at 101.65 which stood for several years. He had taken the world record away from John who held the record at 102.13.
"I was very excited to have met Steve and have him sign the picture for me at the time. The picture stayed with me since my childhood to now as a source of motivation. However, I always felt the picture was incomplete without having John's signature also on it."
In a stroke of luck, John was doing an Olympic function for the Olympin Club of which Dr. Urban is an active member for the past few years. The members collect Olympic memorabilia and other artifacts related to the games.
"After seeing that John was appearing on behalf of the Olympin Club, I reached out and was able to contact him and ask him to sign the news article. He responded and asked me to send the news article along with some memorabilia I had from the 1984 Olympics to his house. A week later, I received the package back and after 30 years, I finally had both John and Steve's signature on this inspirational picture. It was really an honor. Most importantly was what he said on the inscription: "Marty, you can't win if you can't lose."
Since the 1984 Olympics, John has won a Primetime Emmy Award for Outstanding Reality-Competition Program while producing The Amazing Race and has produced 100's of hours of television on major networks. "After 30 years it's an honor to have John sign and complete this picture for me. His words echo how important it is to keep focused on your goals and know that there will be setbacks on the way, but to remember that losing is a part of winning in the end."
The framed picture now stays in a special spot in the Olympic collection as a source of inspiration and the story is finally complete.
---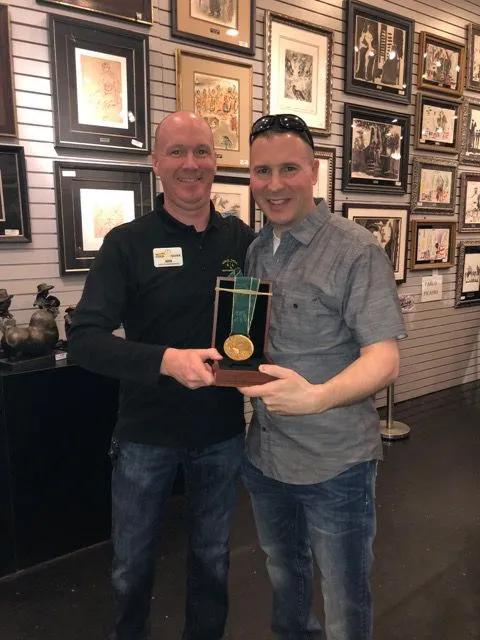 Dr. Urban pictured with the 1996 Atlanta Olympic Bronze Medal of Olympian Joe Greene featured on the History Channel television show "Pawn Stars"
Dr. Martin Urban acquires Joe Greene's 1996 Atlanta Olympic Medal Featured on History Channel's "Pawn Stars."
On a recent trip to Las Vegas, Dr. Martin Urban, a practicing dentist in Massachusetts made a special stop at the Gold and Silver Pawn Shop featured on the hit television show "Pawn Stars" on the History channel. As an avid Olympic enthusiast and collector, he was able to strike a deal and brought home a sought after collectible in the field, a 1996 Atlanta Bronze medal won by American Long Jumper Joe Greene.
As a competitive age group and then NCAA Division 1 swimmer at American University during his collegiate days, Dr. Urban became a collector after his career in swimming ended and his career in dentistry began.
"I am honored to have this American won medal with me and will take great care of it. Joe Greene was one of the best long jumpers of his time and was an amazing talent. There are years of work and training that go into winning an Olympic medal. I saw the medal featured on Pawn Stars and displayed in a case where deals were made for several items featured on the show. I always wanted to bring this medal home. I'm happy to have done so."
Joe Greene apparently pawned the medal to the Pawn Store for financial reasons. The medal was displayed at the store for a few years before Dr. Urban acquired it. Dr. Urban also said that he would be more than happy to talk to Mr. Greene and let him know that he has the medal with him.
"My interest in Olympic medals and collectibles began when I was 14 years old and was an active age group swimmer. I was nationally ranked in the top three in the nation in the breaststroke events and had the opportunity to meet Steve Lundquist who won the gold medal in the 100 breaststroke in Los Angeles at the 1984 Olympics. He let me hold his gold medal and watch it during a function. That day left an impression on me that I would never forget. Although my swimming career never developed to Olympic status, I always remembered that moment and how incredible it was to have an Olympic gold medal. It motivated me to strive to be the best in all that I do."
Now at the age of 44, Dr. Urban practices dentistry in multiple locations in Massachusetts and follows the Olympic Games every 4 years. He is very excited that Los Angeles will host the 2028 games and plans on attending and watching both the swimming and track and field events. For now, he is focused on having a great career in dentistry.
---
Dr. Martin Urban with WWE Hall of Fame Wrestling Manager Jimmy Hart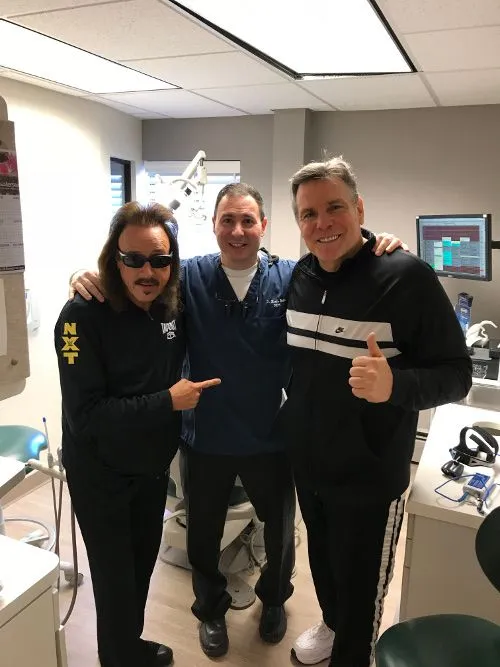 Dr. Martin Urban with Hart and Wrestling Legend Lanny "The Genius" Poffo